Vision • Mission • Values
Empowering • Equipping • Experiencing
Whakamanahia • Whakareri • Whakamātau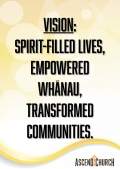 Vision: Spirit-filled lives, empowered whānau, transformed communities.
Whakakitenga: Ngā tāngata kii i te Wairua Tapu, ngā whānau kua whakamanahia me ngā hāpori e whakahoutia.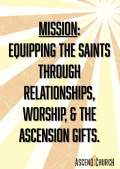 Mission: Equipping the Saints through relationships, worship, and the ascension gifts.
Whakatakanga: Whakareri ngā Hato mā te whakawhanaungatanga, te whakamoemiti me ngā toanga kia Ihoa.
Values: To experience hope, acceptance, identity, freedom, and love through passionately encountering Jesus.
Ngā Uara: Whakamātau ngā tumanako, te whakaaetanga, te tuakiri, te whakamoemiti me te aroha nā te piringa manawawera ki a Ihu Karaiti.